Yarn and Blankets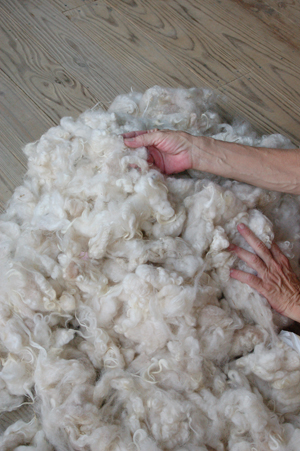 We shear twice a year, spring and fall, producing a 4" to 6" clip. We handwash the lamb fleeces in organic cleaner and sort them for character and color. Silkier fleeces go to Vermont for spinning into yarn and woollier fleeces go to Canada where they are woven into blankets.
Littledove Yarn
Littledove yarn is a soft, lustrous, natural fiber blend. It's warm, yet lightweight, and has an exceptionally soft hand.
Our lambswool clip is blended with kid mohair, alpaca, and silk and custom spun into a light worsted-weight yarn, in natural Shetland colors, the names of which still reflect the 8th century Norse their original breeders used.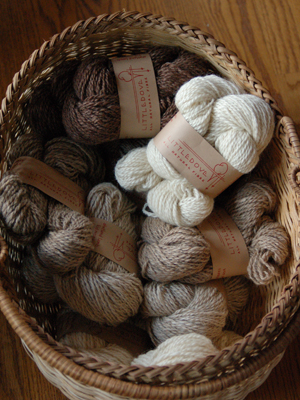 Currently available colors are musket, a light greyish brown; moiget, a medium brown; moorit, a dark reddish brown; and a warm, pearly white.
Our two-ply, sport weight yarn is available in 2oz. skeins (112 yards) at $14 per skein, plus shipping. Contact us directly for samples or purchase.

Littledove Blankets
Warm, soft and pliant, these 100% Shetland lambswool blankets are sturdy and luxurious.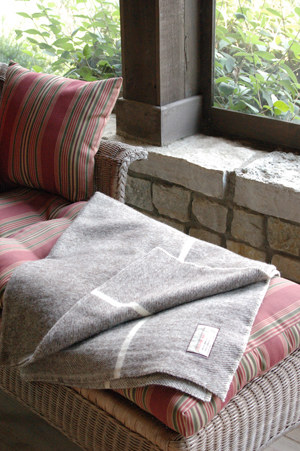 Our lap blankets (48" x 60") are 100% Shetland lambswool, woven from our own lamb fleeces with a white warp and a black/moorit blend weft.
Price is $100 plus shipping. Please contact us for current availability.
Littledove Farm

Fisherville KY